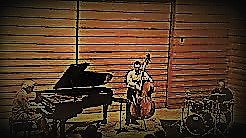 Dave is currently offering recorded lessons for purchase, available here on the Lesson Page. Lessons include a recorded session with Dave at the piano, playing and analyzing standards and compositions by well known jazz musicians, with step by step explanations and examples of approaches to the pieces; focusing on harmonic and improvisational approaches and treatments in great detail. Each lesson can be purchased for download, at a cost of $25. Lessons on demand, which allow the student to choose the material covered, can be purchased for $75. each. Paypal, credit cards, personal checks and cash all accepted… Email Dave at [email protected] to request a particular lesson, or simply enter the name of the song in the Purchase Item Box, and click on the "Buy Now" button. When using Paypal, be sure to include your contact information, including email, and a brief message confirming the lesson content that you would like. And, feel free to email Dave and request a custom made lesson , for any song or theoretical approach to material that you are interested in. A free sample lesson for "My Romance" is available below, in MP3 format. Custom lessons are $75.00, and include a session of recorded material with Dave at the piano, tailored to the individual student, and written material which can be emailed as PDF files. Lessons on Skype are also available for $65 for one hour, $85 for 1 1/2 hours, and $120 for 2 hours. Dave also gives private lessons in person. Rates are: $65./hr, $75./1 1/2 hr, $120./2 hrs., and include any follow up questions that you might have over the following weeks. Contact can be continued via email, phone, or text. You may also request lead sheets for any jazz standard, with not only the standard changes to the tune, but alternate and substitute changes, clearly notated and explained. Lead sheets are $5.00 for any 2 songs already completed, and $10.00 for new custom lead sheets.
Stella By Starlight
In a Sentimental Mood
Re: Person I Knew
Turn Out The Stars
I Love You
Up Jumped Spring
All The Things You Are
Days of Wine and Roses
A Time for Love
In Your Own Sweet Way
My Funny Valentine
How Deep Is Your Ocean
Who Can I Turn To
Falling Grace
Gloria's Step
Since We Met
Peri's Scope
Twelve Tone Tune
Love Is A Many Splendored Thing
I Should Care
Elsa
Never Let Me Go
I Hear a Rhapsody
For All We Know
Autumn Leaves
Polka Dots and Moonbeams
Like Someone In Love
Blue In Green
Someday My Prince Will Come
Waltz For Debby
Funkallero
Israel
Spring Is Here
I Loves You Porgy
Nardis
Emily
Letter to Evan
We Will Meet Again
Very Early
Round Midnight
Blue Serge
People
My Foolish Heart
But Beautiful
We'll Be Together Again
 If You Could See Me Now
I'm Getting Sentimental Over You
Up With The Lark
 Funny Man
Body And Soul
Come Rain or Come Shine
You Must Believe In Spring
Mother of Earl
Solar
Midnight Mood
I Fall In Love Too Easily
Laurie
Time Remembered
All of You
Peace
The Touch of Your Lips
Make Someone Happy
Beautiful Love
The Two Lonely People
A Child Is Born
Sareen Jurer
How My Heart Sings
Sometime Ago
The Opener
Green Dolphin Street
Dolphin Dance
Isn't It Romantic
 Quiet Now
Alone Together
It Could Happen To You
Eiderdown
Here's That Rainy Day
On a Clear Day
Star Eyes
There Will Never Be Another You
One For Helen
Dave's solo CD Introspect is available for purchase here. Price is $10.00, shipping in the USA included. It may also be purchased as a digital download for $5.00. Purchases may be made with Paypal or credit card.