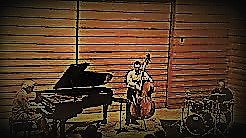 Dave's long awaited solo piano CD, Introspect, is currently available for purchase. To order this beautiful CD, including original artwork by renowned artists Pierre Delattre and Nancy Ortenstone of New Mexico (www.pierredelattre.com) (www.ortenstone.com), click on the "Buy Now" button next to the "Introspect" CD shown at bottom of this page. Paypal and credit cards accepted. Or, find it at Amazon.com and CD Baby ….And, sample some of Dave's other work below, in either WMA, MP3, or RealAudio format. Dave is also currently offering online lessons. A full sample lesson on My Romance is available below. For more information, email Dave at [email protected] …Lessons can be tailored to each student's needs. Completed lessons may also be purchased on the Lesson Page here on Dave's website. Also available for purchase below are all 9 songs from Dave's solo CD, Introspect. Individual songs are available for 99 cents each. The entire CD (all 9 songs) is available for the download price of $5.00.
Here is Dave playing "Round Midnight"

Here is Dave playing "The Touch of Your Lips"
Here is Dave playing his new recording of Bill Evans' composition, "Time Remembered"

Here is Dave playing his original composition "Interlude"
Here is Dave playing "Like Someone In Love"
Here is Dave playing "Who Can I Turn To"
Here is Dave playing a medley of recently recorded standards and originals, including: Waiting, Laurie, Quiet Now, Body and Soul, What Kind of Fool Am I, May Waltze, My Foolish Heart, Re: Person I Knew
Here is Dave playing his original composition, "Waiting", composed to capture the feeling of life in New York City during these times of isolation and stay at home living.
Below Dave improvises on Victor Young's "Beautiful Love"

https://www.youtube.com/watch?v=o1yT0Pe1S3A
Make Someone Happy
(Introspect Solo CD) 99 cents
The Days of Wine and Roses
(Introspect Solo CD) 99 cents
A Time For Love
(Introspect Solo CD) 99 cents
In Your Own Sweet Way
(Introspect Solo CD) 99 cents
My Funny Valentine
(Introspect Solo CD) 99 cents
How Deep Is The Ocean
(Introspect Solo CD) 99 cents
All 9 songs (Complete Introspect CD digital download) $8.00
 I Loves You Porgy
(Introspect Solo CD) 99 cents
 The Touch of Your Lips
(Introspect Solo CD) 99 cents
 Stella By Starlight
(Introspect Solo CD) 99 cents
Online Lessons! My Romance (MP3)
NEW!! From "Introspect" Make Someone Happy (WMA)
NEW!! Re: Person I Knew (Solo and Trio) (MP3)
Brandon's Waltz (Trio) (Utrecht) (WMA, MP3, RA)
Stella by Starlight (Trio) (Utrecht) (WMA, MP3, RA)
Waltz For You (For Marjorie)  (Trio) (Utrecht) (WMA, MP3, RA)
Midnight Silence (Trio) (Utrecht) (WMA, MP3, RA)
December Song (Trio) (Utrecht) (WMA, MP3, RA)
Utrecht (Trio) (Utrecht) (WMA, MP3, RA)
Stella by Starlight (Solo) (WMA, MP3, RA)
Video Of David Playing "Stella By Starlight" (MPG)
Video Of David Playing "Stella By Starlight" (Part 2) (MPG)
Video Of David Playing "In Your Own Sweet Way" (MPG)
Video Of David Playing "In Your Own Sweet Way"(Part 2) (MPG)
Video Of David Playing "In Your Own Sweet Way"(Part 3) (MPG)
Video Of David Playing "Touch Of Your Lips" (MPG)
Video Of David Playing "Waltz For You" (MPG)
Video Of David Playing "Knowing You" (MPG)
Waltz For You (For Marjorie) Leadsheet (PDF)
Brandon's Waltz Leadsheet (PDF)
Knowing You (For Bill Nelson) Leadsheet (PDF)
December Song Leadsheet (PDF)
Utrecht Leadsheet (PDF)
Sometimes Blue Leadsheet (PDF)